DON BOSCO ASHALAYAM – NEW DELHI
Archdiocese of New Delhi
1996 – Don Bosco
Historical Perspective
The Salesian venture for the Street Children of New Delhi begun in 1996. Don Bosco Ashalayam, "Home of Hope" started in January 1997 in a small rented house in Bindapur, Uttam Nagar. Fr. Thaiparambil Anthony was the pioneer of this work for the Young at Risk. He did a lot of work in contacting other NGO's and establishing the network of contacts for the growth and development of Ashalayam. As the work grew and the number of children increased, a new building was constructed at Palam Gaon. The building work was supervised by Fr. Sebastian Jose who later became the director of the centre in May 1999. It was blessed on 27th November 1999 by Most. Rev. Alan de Lastic, Archbishop of Delhi and inaugurated by Fr. Giovanni Fedrigotti,the Extraordinary Visitor. The civic function was presided over by Mrs. Sheila Dikshit, the Chief Minister of Delhi. The house was canonically erected on 4 June 2003.
Service
The house has the capacity to provide rehabilitation facilities for 150 children at any point of time. At present there are 125 children. The Young at Risk are the primary target group of Ashalayam. They include street and working children, slum children and urban refugee youth. The house had a night shelter near Kodiapul, Old Delhi, in the premises of Sr. Mary's Church, placed at our disposal by Archbishop Vincent M. Concessao. Now the night shelter is shifted to the premise of Don Bosco Technical Institute, Okhla. A day care drop-in-centre cum counseling centre is running successfully at Minto Road.
Asha Reachout is a street contact programme for the purpose of strengthening the contacts with the children on the street.
Don Bosco Youth Bank is an initiative by Young at Risk who have received some training to support other children in need. It is a bank which funds self-employment programmes by Young at Risk. The Computer-training Institute at the Centre caters to the slum children and school drop-outs. Ashalayam is also part of the Kidavary network which aims to provide life skills training to slum youth.
From 2001, Ashalayam has taken up a 'skills building programme' for urban refugees. The first project was initiated in July 2001 for Burmese refugee youth at Najafgarh. It was done in collaboration with International Catholic Immigration Commission (ICMC). Seeing the success on the programme, United Nations High commission for Refugees has asked Ashalayam to design and implement a self- reliance programme for urban refugees. It aims to train urban refugees with adequate skills and work experience which will support their livelihood needs in the host country and enable them to rebuild their lives in the home country on their return or facilitate resettlement to a third country. The programme is a joint venture of Don Bosco Ashalayam (DBA) and United Nations High Commissioner for Refugees (UNHCR). The other programmes of this project are psychosocial support, job placement, organization of youth clubs, community animation and education, income generation and self employment. In the year 2009, we have been able to reach out to 11,392 refugees (= M – 5382, F – 6010).
Ashalayam also runs a 24-hour free emergency "Child Helpline" for children in distress. It is sponsored by the Ministry of Social Justice and Empowerment and is part of an all India effort to help children in need. Don Bosco, Ashalayam is in charge of the West Delhi region and any child from the area can dial 1098 free of cost to request help from Child Helpline.
Diocese of New Delhi
(1999) 2003 – St. John Bosco
Street Children, Social Outreach
Address
Don Bosco Ashalayam
WZ- 1211, Old Najafgarh Road
Palam Gaon
New Delhi 110 045
Contact
(011) 25080094 House
(011) 25 08 0101/2 Childline
(011) 25080097 Director
+91 8376 815313 P Swanoop
+91 9868175683 P Jose Arimpoor
+91 8709413662 P Abhay Beck
+91 8198966961 L Praful Lakra
Email:
dbashalayamdelhi@gmail.com Ashayalam
www.donboscoark.org DBARK
joearimpoor@gmail.com P Arimpoor Joe
swanoopdev@gmail.com P Swanoop
abhaybeck18@gmail.com P Abhay Beck
prafull138@gmail.com L Praful Lakra
Website: www.dbashalayamdelhi.org
Salesian Staff
P Choudhury Swanoop Rector (2015), Director
P Arimpoor Jose VR, Director DBARK
L Lakra Praful Kumar Admin
P Beck Abhay Dean, Cs
P Adichirayil Kuriakose Spiritual Director
S Jacob Jeremiah Asst & Teach (PT2)
Community Activity
FEAST OF ST. JOHN BOSCO and ANNUAL DAY CELEBRATION
AT DON BOSCO ASHALAYAM, NEW DELHI.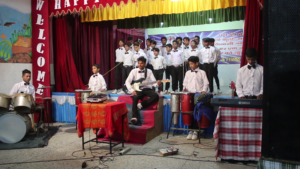 New Delhi, Palam, Jan. 31, 2018: Don Bosco Ashalayam celebrated the feast of its Father and Hero, Don Bosco (A friend of Young at Risk) on 30th January 2018. Traditionally, this day also marks the Annual Day, a day of anniversary for Ashalayam, New Delhi.
The staff and the children had their month long spiritual, physical and cultural preparation for this great event which comprised of 'yoga,' 'prayer services,' and distribution of blankets to the slum children.
A cultural programme was organized by the children of Ashalayam and Snehalaya on 30th January 2018 at 6:30 p.m. in Ashalayam auditorium. There were about 250 guests present on the occasion. The cultural programme comprised of a prayer dance, tributes to Don Bosco, a Bollywood dance number by jointly by the Snehalaya children and the staff of Ashalayam. The much awaited programme was a musical drama "BAHUBALI". The children of both Ashalayam and Snehalaya performed better than the original artists. Everyone watched this progremme with a sense of wonder, irrespective of their status.
Don Bosco started the work for the street children with the support of copious benefactors from various parts of the world. It was not easy to begin the work for the street children which was totally unheard of in the 18th century as the children were considered criminals. However, the special mission of Don Bosco is carried out even today with the same spirit. Following the footsteps of our Founder, Don Bosco Ashalayam, New Delhi is one of those many centres where numerous benefactors, well-wishers contribute their part to bring smiles in the lives of children living in the Ashalayam. We express our sentiments of gratitude to them for their sacrifice and concern and without their support, the work would be incomplete. Thank you and God bless you all.